Local Locksmith In Leeds, Not A National Company!

Genuine Local Family Run Locksmith Company
Over 15 Years Experience!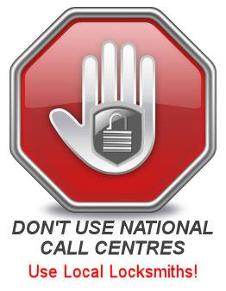 Fed up of Searching For A local locksmith in Leeds?
Do you keep coming across national locksmith company's trying to trick you into thinking they live in Leeds?
Luckily you are now in the right place. I'm Ben and I own and manage 1st Defence Locksmiths Leeds. Let me tell you a bit about us.
1st Defence Locksmiths Leeds are a well established family run Leeds locksmith company. We are actually based in Leeds and we have over 15 years experience in the locksmith industry. This makes us one of the most experienced locksmiths in Leeds. We serve both domestic and commercial customers in Leeds and all of the surrounding areas. We are completely independent locksmiths based in Leeds and we do not work for national locksmiths or call centres.
At 1st Defence Locksmiths Leeds we never charge a call out fee even at evenings and weekends. We also do not charge VAT which saves you 20% against some other Leeds locksmith company's straight away. No Call out fee coupled with no VAT makes us one of the best value locksmiths in Leeds and helps to keep our locksmith prices low. For customer convenience we offer several payment methods including card payments, Apple Pay and Google pay.

Customer satisfaction is always top of our list and as a result we aim to get to all emergency locksmith jobs in Leeds within 1 hour of your call whenever possible. We have a vast range of materials in stock so most of the time we can complete the job on the first visit to your home or business property. If on the rare occasion we don't have the correct part with us we can usually source most items the same day due to our fantastic relationship with our suppliers in Leeds.
As well as attending emergency locksmith call outs in Leeds we also carry out non emergency pre planned bookings. We can book pre planned work for a time which is convenient for you even if this means visiting your property on an evening or weekend.
Due to our vast experience, when you call we can usually give you a fixed quote over the phone. However for more complex jobs we might need to visit your property in Leeds to give you an exact price. If we do need to visit your property in order to give you a quote we never charge for this service. Once the price is agreed we will carry out the locksmith work to the highest standard possible. All parts supplied and fitted by us come with a full 12 month guarantee. At 1st Defence Locksmiths Leeds we are fully insured and also fully DBS checked giving you full piece of mind.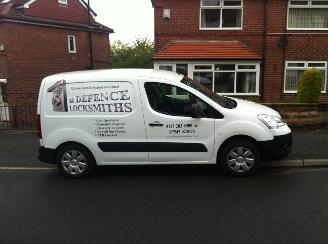 With all our experience and knowledge of the locksmith industry we thought it would be a great idea to join checkatrade. This gives us a platform to advertise our local locksmith business with a very reputable company. All company's have to go through a strict vetting procedure before they can advertise on checkatrade. Many credentials are checked including things like making sure business insurance is up to date and also checking customer references etc. In a short space of time we have gained a huge number of reviews on the platform and we consistently have an amazing average score. All the reviews on the checkatrade website are checked to ensure that they are genuine customer reviews. It basically means that a company cannot hide behind fake reviews as everything we do is monitored by a third party. We feel this is important as it shows that we are a transparent genuine locksmith Leeds company. Feel free to head to the 1st Defence Locksmiths Leeds checkatrade page and check us out on there too!

Locksmiths In Leeds
Need better security for your home or business? Anti snap locks fitted in Leeds
For many years now Leeds has been plagued with a break in method called lock snapping. The technique targets homes and businesses with inadequate weak euro locks. As this technique has progressed and spread across Leeds lock manufacturers have had to step it up with the security of there products. This entry method has taken off so much over the past decade new standards have been introduced for euro locks to be tested to. We offer a range of euro locks to suit everybody's budget. We only use top quality genuine and proven brands. Our top of the range Brisant Ultion anti snap lock is so secure it even comes with a £1000 guarantee against lock snapping! Head over to the 1st Defence Locksmiths Leeds anti snap lock page for more detailed information.

Got problems with a Upvc or composite door?
Upvc and composite doors tend to use the same types of locking systems as each other, known as a multi point locking system. This means they both suffer from the same type of issues. Doors can become jammed in the locked position or can fail leaving them impossible to lock without professional attention from a locksmith in Leeds. They can also become increasingly difficult to lock or unlock as the door and frame become miss aligned from each other.
Whatever the problem with your upvc or composite door as professional locksmith Leeds we can rectify the issue and make the door work as good as new. In some cases believe it or not we can actually make them work better than the day they were originally fitted. More information about our upvc and composite door services can be found on our dedicated page.
Aluminium Door Repairs. Old domestic aluminium doors? Problem with commercial shop front?
Aluminium doors are commonly found on commercial premises but can in some instances be found on domestic properties as well. Both of these require some very specialist knowledge in order to repair them. We have found that most other locksmiths in Leeds do not want to tackle aluminium doors of any kind. The domestic ones now tend to be so old that parts are hard to come by and other Leeds locksmiths do not have a lot of experience with these systems. We have been working on these types of doors for years and in a lot of cases we can still source parts either the same day or the next day.
With regards to commercial aluminium doors in Leeds they tend to get very heavy usage causing parts to wear out. We are experts in commercial aluminium door repairs in Leeds and over the years have repaired doors on some of the biggest high street stores. We have a dedicated aluminium door repairs page for you to take a look at.
Commercial High Security Steel Doors
At 1st Defence Locksmiths Leeds we don't just work on locks. We also supply and fit high security commercial steel doors. These doors are an excellent security feature for businesses in and around Leeds. These steel doors are designed to keep intruders out whilst also giving your commercial premises a cosmetic lift. They offer great looks but at the same time a huge boost in exterior security. We offer a range of doors from budget right up to ultra security level. To find out more about our high security doors please visit our commercial security door page.
Van Door Deadlocks
Thefts from vans is becoming an increasing issue for owners. Quite simply many of the manufacturer fitted van security systems are just not up to the job of keeping the van secure. To combat this our locksmith Leeds service can supply and fit Thatcham approved van locks. This consists of fitting deadlocks and euro cylinders to strengthen the existing vehicles security. We have an option for just about every single make and model of van available at the moment. For more information please visit our van door locks page.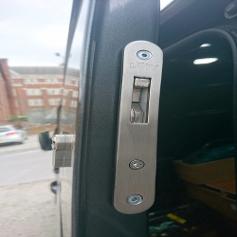 Burglar Alarms
We don't just do locks here at 1st Defence Locksmiths Leeds we also undertake all aspects of alarm work in Leeds as well. Whether its a commercial or domestic property we have an alarm solution for you. From basic traditional style burglar alarm systems to a high tech super modern solution our locksmith Leeds service can do it all. Please visit our burglar alarms page for a more detailed insight into our alarm services in Leeds.
Locksmith Services In Leeds
Locks opened
Locks replaced
Locks repaired
Wooden door locks
Upvc door locks
Upvc window locks
Wooden window locks
Garage door locks
Commercial door locksmith
Burglar alarms
Burglary Repairs
Van Locks
Emergency Service
Local Locksmith In Leeds
When you call you will speak directly to our skilled Leeds locksmith not just somebody in a call center that has no knowledge of locks at all, no matter what time of day or night you call. Whether its a simple lock change or a complex master key suit 1st Defence locksmiths Leeds can be of assistance.
We also offer discounts to student and old age pensioners in Leeds. Please do not hesitate to contact us using any of the phone numbers at the top of this page or at 1stdefencelocksmiths.leeds@gmail.com
VW Transporter Secured With Deadlocks
At 1st Defence Locksmiths Leeds we recently introduced a service, supplying and fitting deadlocks to vans. In the short time we have been securing vans in and around Leeds we have had a huge number of requests for this type of locksmith service. Our latest one was to supply and fit Thatcham approved deadlocks to the rear and side loading doors of a Volkswagen Transporter High line. These locks are an additional extra to the manufactures locking system and offer a very robust solution to the van break in epidemic which has occurred over the last couple of years. All our kits are tailored to each van ensuring the best possible fit with maximum effectiveness against theft from vans.
For this particular job we fitted a hooked deadlock case to the side loading door and a deadbolt case to the rear loading door. Both deadlocks were fitted with a high security dimple lock cylinder. We also keyed alike both euro cylinders meaning the customer only needs one key to unlock both the rear and the side doors, making them much more convenient to use.
1st Defence Locksmiths Leeds 100 Checkatrade Reviews Certificate
Here at 1st Defence Locksmiths Leeds we hit a huge milestone this week. We received a certificate from checkatrade for reaching 100 reviews on there website. We are over the moon with this and would like to thank all of our customers in Leeds for your business and support by taking the time out of your busy day to leave us the reviews. We work tirelessly to get the best feedback scores from our customers and we are proud to have a current score at the time of writing of 9.96 out of 10. 1st Defence locksmiths Leeds have only been a member of checkatrade for the last 18 months so we think we've hit 100 reviews very quickly so hopefully this means we are doing something right! We look forward to hopefully achieving the 200 review certificate in the near future. Thanks again to all our customers, from 1st Defence Locksmiths Leeds.
National locksmith company fail to rectify problem
We attended a job last week where the customer was having difficulty with a very modern composite front door. The customer had been struggling with the door for a couple of weeks and had called a company that came up top in the paid adverts on a Google search for "locksmith Leeds". The locksmith company in question had come out and assessed the problem claiming that it was the euro cylinder that was at fault.
They changed the euro lock and all seemed to be well for a couple of days until late one Friday night the door seized up in the locked position and wouldn't open. The customer called the locksmith company back who stated it would be £70 for them to come out and take a look even though there so called repair should have technically still been under guarantee. After completely losing faith in the company the customer called us.
We attended on a Friday evening within one hour of the call in the rain to see what the problem was. It turned out the fault was inside the gearbox of the multi point locking mechanism and that the original company had changed completely the wrong part! We quickly opened the faulty door and replaced the gearbox which completely cured the problem. We then noticed there was also a problem with the way the door had been fitted originally about 5 years ago. We also fixed this for the customer while we were there making sure the all parts of the door were working in perfect harmony with each other.
The customer was so pleased with the locksmith work we had done on his front door he also instructed us to do further work on the rear door as well whilst we were there and upgrade the security dramatically. All in all a 100% happy customer and he even left us a brilliant review on our Checkatrade page as well.
Aluminum Door Repair At A Local Nursery
Last week we attended a nursery very local to us in Leeds. The fault reported was that the front door wasn't closing properly meaning the magnetic door entry system would not engage and hold the door shut properly as it should.
Parents were concerned that anybody was able to enter the building without pressing the buzzer. Sometimes in this situation we can just make simple adjustments to the door closer to rectify the problem. On this occasion the 10 year old door closer was not repairable as the oil seals had perished allowing the hydraulic fluid to leak out.
The only way to access these types of door closer is to remove the door which is a two man job. On removing the door we also found the bottom pivot to be damaged so we also replaced that as well. Once the relevant parts had been replaced we hung the door and it worked perfectly just as it did when it was originally fitted.
We also ran some tests on the electric supply to the magnetic connection and found an intermittent fault with the door release switch inside the building. While we were at it we also replaced the faulty switch and all was left in perfect working order. So now not only does the door operate as it should and close properly it is now secure stopping any unwanted intruders. Another happy customer and also happy parents.
Something A bit different
One of the things we enjoy the most at 1st Defence Locksmiths Leeds is doing jobs that are a little bit different. Like any job it can get a little bit repetitive doing the same things day in day out. We got called to an old Victorian door at a house in Leeds that had a very outdated locking system.
The customer was not convinced that the lock currently fitted was very secure, and also the lock in question was on its last legs and didn't meet the current standard for BS3621. In the unfortunate event of a burglary this would mean any contents insurance could have potentially been voided due to having an incorrect lock type. With the door been so old it was never manufactured with today's locks in mind. The door rail was far too narrow to fit an additional conventional modern type mortise or Yale lock, either up above or lower down from the existing lock. The old lock couldn't be replaced with a BS3621 version of the same lock style as it doesn't exist.
After a discussion with the customer they gave us the go ahead to convert the old style lock to a modern British standard sash lock and mortise handles. The job went absolutely perfectly and the door was left looking like the old lock had never even been there. All in all a very satisfying job.
Chosen as one of the best locksmiths in Leeds
We received a rather nice email last week to inform us that we had been chosen as one of the top 3 locksmith company's in Leeds. Website "The Best 3 Rated" has gone through a list of all the locksmiths in Leeds looking at different company websites and external review sites to hand pick the best 3 locksmith company's they can find in Leeds, and we are one of them! Business are rated based on a 50 point inspection which includes checking company history, reviews, complaints, satisfaction and business reputation. We put so much effort into customer satisfaction and building up great reviews for our locksmith business its nice to get some recognition for our efforts. A big thanks to The Best 3 Rated!
Van Key Repaired
We had to help a friend in need recently with a broken Citroen van key. The key had been dropped and had fallen apart. Upon trying to put all the pieces back together the spring mechanism for the flip out key had broken in three places and was no longer operational.
At 1st Defence Locksmiths Leeds we do not normally take on auto locksmith work but since all the parts of the key were to hand and the circuit board wasn't damaged we decided to take on the job.
We ordered a new empty Citroen key fob shell with an uncut flip out blade attached. We then carefully removed the uncut blade from the flip out mechanism inside the new shell and removed the original blade from the broken key. Then it was time to put the old pre cut blade into the new shell. A very fiddly job but saved the customer the cost of cutting a new blade.
Now the key was back to a state where it could be turned in the ignition and vehicle door locks. Also the new button was allowing the blade to flip out and be locked away as it should do.
The next stage was to get the circuit board transferred into the new shell as its needed to control the remote central locking and deactivate the vehicle immobilizer. So by delicately removing it from the old shell we popped it into the new one.
Finally the last step was to fit a new battery and test all aspects of the key. The key now flips out as it should, opens and locks via the remote central locking, turns in the ignition and door locks and finally turns off the immobilizer and starts the van. A very satisfying job but most importantly 1st Defence Locksmiths Leeds now have another very happy customer.
Mechanism Mess
We were called to a multi point locking mechanism problem in Leeds last week. The customer had tried to upgrade the lock cylinders on a pair of French doors but the lock mechanism now had an issue. Once the door had been locked the handle could be pulled down and the door would open when it should have still been in the fully locked position.
When we arrived we stripped the lock mechanism from the door to find the back of the gearbox all twisted, bent and part of the cases side split open. After a bit of investigation 1st Defence Locksmiths Leeds found that the customer had replaced the lock cylinder with the new fixing screw supplied. The big problem was that the new fixing screw in question was too long! The screw had punched right thought the back of the gearbox and destroyed the casing and broken some parts inside.
This particular mechanism just happens to be the most expensive brand money can buy. Feeling a bit sorry for the customer we decided to try and repair the lock and save the customer some money.
At first glance it did appear that the lock was probably damaged beyond repair. By this time it was starting to get dark which obviously always makes a locksmiths working conditions more difficult. All the bent pieces were removed from the gearbox and straightened out using a vice and a couple of pairs of grips. Carefully all the straightened parts were put back in place and the case fixed back together. The bent side of the case was tapped back down and it was fixed ready to test.
Upon testing the mechanism it worked perfectly first time! One happy customer and one even happier Leeds locksmith! With over 10 years experience we pride ourselves on this sort of repair, going above and beyond to rectify the problem when most locksmiths would have thrown it in the bin and charged for a whole new unit. All in all a 100% success.
Specially Made Cylinder
We had a very special request recently for a PVC door lock for an elderly customer. The customer couldn't get out of the habit of leaving the key inside the door once it was locked. This meant he was locking out family members and careers.
At 1st Defence Locksmiths Leeds we were asked to supply and fit a lock that a key could be still be used on the outside even when there was a key left on the inside. Initially we suggested a type of lock called a Cisa Astral S which comes as standard with a dual clutch mechanism which would allow the double key operation. This particular lock comes with a modern dimple style key and unfortunately wasn't an option the customer was able to use.
Because of this we needed to find a cylinder that had the dual action but worked from a tradition type key with a vertical key way. We searched high and low for a lock to meet the customers requirements and ended up contacting 9 different locksmith suppliers to try and hunt down a lock that would meet the criteria.
In the end we found a company in London that was willing to build us the lock to the exact specification we needed. The lock was built using an Evva cylinder the same day and shipped to us for next day delivery!
We installed the lock at the customers home in Leeds quickly after taking delivery. The customer was over the moon with our solution, price and quick turn turn around time. At 1st Defence Locksmiths Leeds we really do try and go the extra mile and put in that extra little bit of effort to please our customers in Leeds.
Attempted Lock Snapping Burglary In Leeds
At 1st Defence Locksmiths Leeds we attended an attempted break in at a Leeds home last week. This was on a secluded property with a very secluded rear garden and patio doors.
Unbelievably this was the second time somebody had tried breaking in using the same technique! Fortunately the customer had a Yale one star anti snap lock already installed. This lock is designed to break at a predetermined point and prevent access to the lock mechanism inside the door.
The would be intruders had damaged the lock and door handle but the most important thing is they failed to gain entry. Here's a before and after picture of the lock and handle. On the left is the damaged lock after the attempted break in. On the right is a picture of 1st Defence Locksmiths Leeds repair of the lock and door handle. We have more information available on our anti snap locks page.
Although the Yale 1 star euro lock had done its job and prevented a burglary the customer didn't want to take any chances and opted for our top of the range Brisant Ultion 3 star diamond standard euro lock. This lock passes every major industry test with flying colors and even comes with a £1000 burglary guarantee against lock snapping. We replaced the damaged old fashioned white handles with a brand new pair of modern shinny chrome handles as well. Along with repairing the damaged and upping the security we also gave the door a modern fresh look with some beautiful looking handles.
2 Lever Rebated Sash Lock
We attended a property to take a look at a very old and nowadays very rare union 2 lever rebated lock. Two locksmith company's had already been to look at the lock in question but were unable to source a replacement.
Due to the massive range of stock we carry in the van we did actually have one of these locks with us, but we advised the customer to upgrade the lock to a British standard 5 lever lock by making some adaptions to the door.
Rebated locks are used on double wooden doors and the rebate kit is used to cover the gap in the door when the two doors close together. On the old lock the rebate kit is actually moulded to the lock itself where as the modern way of doing it is to fit a rebate kit over the top of the new lock.
As you can see the modern lock is much larger than the original so we had to do some wood working to make the new one fit. By fitting a BS3621 5 lever the security has been upgraded massively and now complies with the home owners insurance requirements
Its well worth checking that your locks meet current insurance standards or you could find your insurance is void in the event you need to make a claim.
Commercial Door Sill Replacement
We attended a job at an office park in East Leeds to replace a faulty door closer on a large commercial door. This type of job is fairly routine for us and nothing out of the ordinary. In order to change this particular type of door loser the door must be removed first by lifting it off of a part known as the bottom pivot. Upon removing the door we found something very unusual. The aluminium door sill was completely rotten right next to the bottom pivot which is a vital piece for holding the door on and ensuring a smooth operation. After a bit of investigation work it turns out that in winter a grit truck pulls into the car park and sprays grit out of the back to cover the car park. Unfortunately this grit had also been going under the bottom of the door and getting trapped in there and over a period of around 10 years had eaten its way through the door sill.
As we were only there to do the door closer we informed the people concerned of the issue who opted for us to change the door closer and order a sill to be fitted asap.
We tracked down a door sill that would do the job as theirs literally hundreds of different styles and sizes. We then made a return visit to fit the new sill. Once again the door had to be removed in order to remove the old sill and install the new one. Sills are generally awkward to remove as you usually find all the old screws are rusted in and sometimes they are also sat on a bed of cement. This one was no exception as every single screw was rusted. Once we had got the old one out we cleaned up all the dirt and debris from underneath to ensure a good clean surface to bond the new one too.
The new sill was then cut to length and the concrete re drilled for the new fixing plugs. Also a hole was drilled for the new pivot to bolt into. With the sill firmly in place the door was hung again and refixed to the closer which we had previously installed. Next the sill was sealed around all edges using a grey silicone to prevent water seeping underneath or down the sides. The final thing was to test the operation of the two locks already installed on the door to ensure the alignment was perfect after removing a refitting the door.
Remember at 1st Defence Locksmiths Leeds we do more than just locks. We offer a complete range of domestic and commercial door repairs as well.
Keyed Alike Locks At A Business In Leeds
1st Defence Locksmiths Leeds were called to a business premises after some keys had been stolen out of a company vehicle. The company requested that they would like both there front and back doors working from as little different keys as possible. Both doors consisted of a mortice lock and a Yale Lock.
We upgraded and keyed alike both mortice locks and both Yale locks meaning that the same two keys used for the front door could now also be used in the back door. By using this method we managed to reduce the number of keys needed to enter the building by 50% going from four keys to 2 keys.
We also changed the door handles on both doors as they were very old and tarnished. We then cut an additional 8 keys to go with the originals so that every staff member had access to new keys on the same day that the locks were installed.
1st Defence Locksmiths Leeds can key alike just about any lock in any form be it for a full commercial building or a standard domestic front and back door. Please feel free to contact us regarding any keyed alike requirements you have and we are sure we can assist.
Coffee Shop Commercial Door
1st Defence Locksmiths Leeds attended a commercial door at a very large coffee shop chain in Leeds city center. The reported problem was that the door wouldn't close properly. After a first initial inspection it appeared that the door needed a new concealed door closer as it was leaking hydraulic fluid. This is a very common cause of failure on concealed door closer's.
After removing the door to access the door closer we found that the bottom pivot was smashed and also rusted into the door sill. The door closer itself was completely loose and only holding on one of the four fixing bolts. The bracket for the closer was also the wrong type. The shoe that the bottom pivot sits inside was also broken.
The only way to fix all these issues was to renew all the parts and secure the door properly because with all these separate faults it was only a matter of time before the door fell off especially with the high volume of traffic going through this particular door everyday.
We fixed the correct bracket into the top of the frame and fitted a brand new Axim door closer. This allowed us to get all four of the correct bolts back in and tighten them all correctly. We then used a repair plate and bottom pivot fixed into the door sill. We fixed a new shoe into the bottom of the door and rehung the door. Also 1st Defence Locksmiths Leeds re fixed a part of the frame that had come loose at the top which helped pull the door and frame back into square.
Once the door was re hung we made a small adjustment to the top arm, this looked like it had been adjusted before but had been adjusted the wrong way by another contractor. All this work combined allowed the door to close absolutely perfectly. We then tweaked the closing speed and the latching speed of the new closer.
Now with a perfectly working door and more importantly a door that wasn't at risk of falling off anymore we gave the lock a good service and the whole door and lock system was back to as good as the day it was first installed around 15 years ago.
Many locksmith company's in Leeds shy away from these kind of repairs and pass them onto us. This is one of the most satisfying locksmith jobs we carry out at 1st Defence Locksmiths Leeds as well as a wide array of other locksmith work. If your having issues with your commercial aluminum doors give us a call, we can work on any part of the door weather it be a closing issue, alignment issue or a locking issue.
Practice Makes Perfect
One of the most rewarding events that can happen as a locksmith in Leeds is the ability to do a job that somebody else can't do. We were called out to the lock pictured below. This is a very very high security lock called a Avocet ABS euro lock.
The lock in question is very resistant to all opening methods. The customer called out a locksmith who took one look and said "its an all day job" and walked away saying he would return later to tackle the lock. The other Leeds locksmith never returned so the customer called us instead.
One of our specialty's is opening high security locks. We practice for hours on end with all the newest high security locks to ensure we are on top form to when the time comes. On this particular occasion we picked the lock open with no damage in under 10 minutes which is quite the opposite of an all day job!
We replaced the Avocet ABS lock with a Brisant Ultion euro lock pictured on the right. This model comes with a £1000 burglary guarantee.
If you have a high security lock that you've been told is a massive job to deal with or simply cannot be done, please get in touch with us ASAP. Regardless of make and model we can always help.
Opening Hours
Monday 12:00am - 23:30pm
Tuesday 12:00am - 23:30pm
Wednesday 12:00am - 23:30pm
Thursday 12:00am - 23:30pm
Friday 12:00am - 23:30pm
Saturday 12:00am - 23:30pm
Sunday 12:00am - 23:30pm
1st Defence Locksmiths Leeds
11 Leysholme View
Wortley
Leeds
West Yorkshire
LS12 4HN
© copyright 2012 - 2023 1st Defence Locksmiths Ltd, All rights reserved
1st Defence Locksmiths Ltd Company No 10114645