Commercial High Security Steel Doors Leeds
Commercial steel doors are a great way of securing your business premises in Leeds and West Yorkshire. Often commercial premises are targets for would be intruders because of the high value of goods often found in them. We offer fully customisable high security steel doors supplied and fitted for commercial premises, ranging from budget at 45mm thick all the way up to ultra high security steel doors at 70mm thick!. We supply and fit a wide range of steel security doors for multiple types of application. Our steel doors can be used for personnel doors, fire exits, warehouse, containers, garage side doors, workshop doors, and many others. All the doors we supply and fit come with high security multipoint locking systems that lock in a number of places, anti crowbar lips and are of fully welded construction. All doors come with a level of galvanised material to prevent rusting so are perfect for exterior usage. Our high security steel doors look clean and modern and will transform any tired looking premises at the same time as dramatically increasing security.
How it works
We carry out a site visit to check size and suitability and then help you put together a door that will fit your security and accessibility needs. Once we have determined that the property is suitable to have a steel door fitted i.e. correct lintels in place etc we can then move on to the fun part of designing the specification of your door from a number of customisation options. Once your door has been built we will return to fit your high security commercial steel door to the highest possible standard. We will work around you and your businesses needs to ensure minimal disruption to your staff and your business.
Our supplied and fitted doors can be configured in multiple different ways as listed below.
Budget, Heavy duty security or Ultra security
multiple colours
Panelled are plain
Inward or Outward opening
Double or single doors
Fire exit door with panic bar.
Budget steeldoors supplied and fitted in Leeds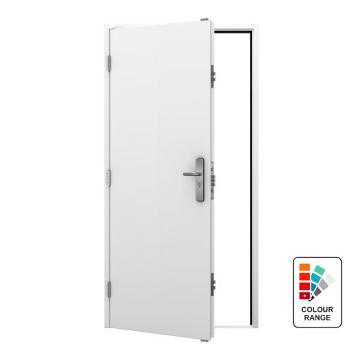 Budget Steel Door features:
Amazing Value for money
45mm Door thickness
90mm Frame depth thickness
Anti crowbar lip
Honeycomb Core
3 Stainless hinges
Multi point locking system
Fully welded construction
0.8mm Galvanised steel
Weather Seal
Range of colours
Heavy Duty Steel Door, Medium Security supplied and fitted in Leeds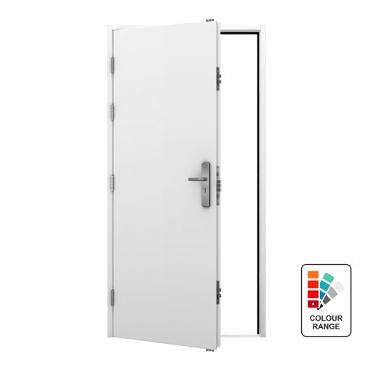 Heavy Duty, Medium Security Features:
50mm Door thickness
90mm Frame Depth Thickness
4 Stainless ball bearing hinges
1 x vertical and 2 x horizontal reinforced bars
4 x Hinge bolts
Multipoint locking system
Anti crowbar lip
Fire rated FD120 version available
Mineral wool insulation
Double skinned 1mm stainless steel
Fully welded construction
Weather Seal
Internal and external use
Range of colours
High Security Ultra Steel Doors Supplied And Fitted in Leeds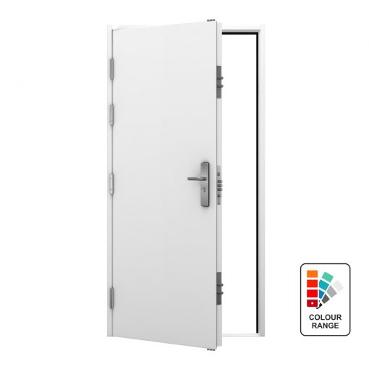 Ultra Security Door Features:
70mm Door thickness
110mm Frame depth thickness
Mineral wool insulation
Anti crowbar lip
Double skinned 1.2mm galvanised steel
2 x horizontal and 2 x vertical reinforced bars
multipoint locking system
4 x stainless heavy duty door hinges
4 x Hinge bolts
Internal and external use
Weather seal
Fully welded construction
Range of colours
Copyright 2012-2023 1st Defence Locksmiths Ltd, All Rights Reserved
1st Defence Locksmiths Ltd Company No 10114645